Saigon Cultural Products Corporation Party Committee is a higher grassroots party committee, established under Decision No. 659-QDNS/TU Sep 18, 2003, with 17 comrades initially appointed in the Executive Board, Ms.Nguyen Thi Mai held the position of secretary. The Party Committee consisted of 6 grassroots party committees and 11 branches with total of 354 members, who from the affiliated Parties separated from the business and non-business sector of HCMC Department of Culture and Information.
After the temporary operation period, until now, the Party Committee has conducted 4 congresses, each stage came up with a strategy to develop SCPC in accordance with the goals and potentials of the business. Currently, the Party Committee has 3 grassroots party committees, 12 branches, with 279 members, led by Mr.Nguyen Hong Ha as secretary.
The 4th Party Congress was held on Aug 29, 2020, proposed resolutions and action programmes to successfully implement political tasks in the period of 2020 – 2025, building Saigon Cultural Products Corporation to become a typical unit in culture with activities of printing, publishing, cinema and cultural services; actively and effectively participate in the implementation of the project "Strategy for the development of cultural industries in the period of 2020-2030" of HCMC and Resolution No. 33-NQ/TW of the 9th Conference term XI of the Central Executive Committee on "Building and developing Vietnamese culture and people to meet the country's sustainable development requirements".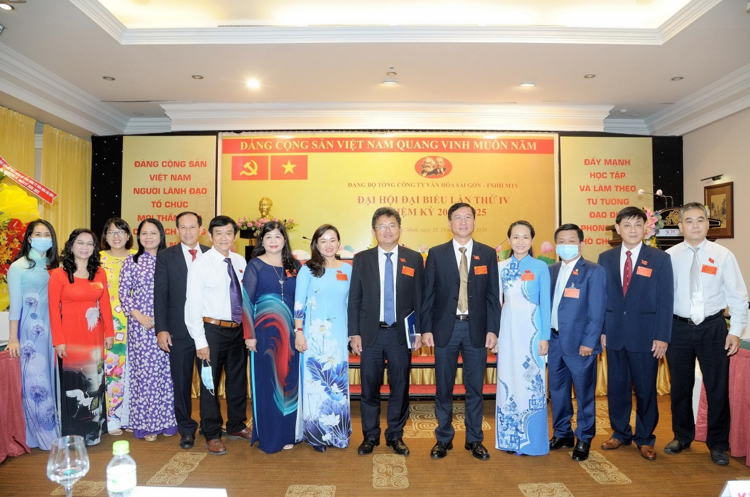 Photo: Mr.Nguyen Hong Ha (6th from the right) was re-elected secretary of the Party Committee
By Thanh Nhan and C&C