Overview
SCPC – Saigon Cultural Products Corporation is not only a sustainable economic corporation but also a social connected one, ready to join the supply chain cultural industry, contributing to building a healthy cultural and artistic environment for the City.
With the extent of 20 subsidiaries operate in many sectors such as printing, book distribution, tapes/disks, cinema, advertising, art, cultural services…. Saigon Cultural Products Corporation was the first corporation of Ho Chi Minh City specialised in the field of culture and cultural services. The subsidiary companies have the advantage of high experience in organisation and operation, a loyal customer base, and are reliable partners of many large enterprises in the country.
To fulfill the goal of "Economic growth goes together with socio-cultural development", SCPC always accompanies the people of HCMC and the country through the activities of the City Book Fair, the Mobile Book Cart, the Mobile Cinema Team, etc, regularly take care of policy beneficiaries such as: Vietnamese heroic mothers, martyrs' families, revolutionary families, pensioners, poor people in the remote areas, etc.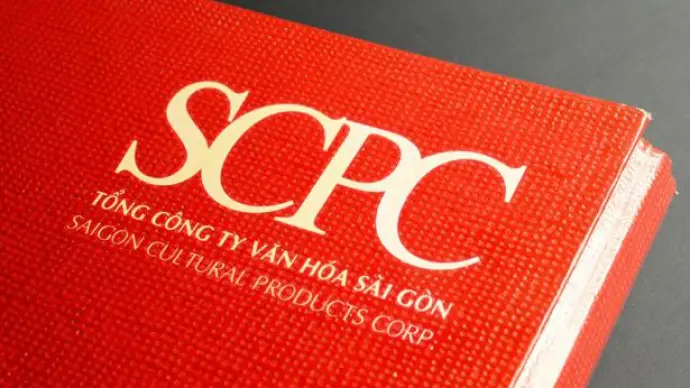 History
Officially established on Sep 12, 2003 according to Decision 177/QD-UBND of HCMC People's Committee, organised in the form of parent – subsidiary comapny, including 20 member units with closed model Publishing – Printing – Distributing operating strategy, in parallel to developing inherent strengths in the sector of Cinema – tapes/disks and cultural services.
2003
Transformed into a one-member limited liability company with 100% state capital under HCMC People's Committee with 03 branches, 04 subsidiaries and 18 affiliated companies. Organising the projects implementation to build complex buildings and multi-culture places in central areas to serve the needs of people HCMC and neighboring provinces.
2010
Restructuring enterprise according to Decision 7322/QD-UBND of HCMC People's Committee, continuing to keep investment capital in 20 enterprises which are affiliated units, subsidiaries and branches, focusing on main business  of Printing – Distribution – Media – Cinema and Services in order to meet the requirements of sustainable development of the Corporation in innovation and world economic integration period, effectively exploiting the potential of the resources and capital in the system.
2013
The 4th Party Congress (2020 – 2025) determined the development strategy of Saigon Cultural Products Corporation following actively oriented participating in the cultural industry, having roadmap according to a professional, modern direction, promoting the advantages to associate with the image and people all over the country.
2020
VISION - MISSION - CORE VALUE
Vision
Becoming a strong cultural economic enterprise in the direction of synchronous and sustainable development, participating in the chain of cultural industries and contributing to bringing valuable cultural products to many classes, that has been the goals of SCPC in the next years.
Mission
SCPC considers the mission of "Connecting Culture – Reaching Success" as a symbol of its commitment to understanding, respecting and aiming to the development of not only the corporation but also the clients, customers and community stably and sustainably.